When space begins to move, the world moves forward.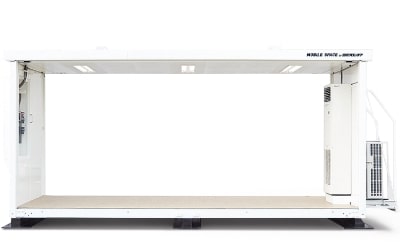 At Sankyo Frontier, our mission is to contribute to society through our business. In other words, it is to foster a recycle-oriented society.
At present, excessive space creation is based on "scrapping and building", which creates a large amount of industrial waste. This continues to exert a great burden on our environment.
Mobile Space by Sankyo Frontier aims to overturn this conventional practice, through an eco-friendly product that can be moved around and used repeatedly.
Through the widespread use of Mobile Spaces across society, we forge a path of resource efficient space creation. Through innovative urban design where buildings are "circulated", we will continue to contribute towards building a sustainable global environment.
By moving space, we can move the world towards a happier future.
This is the Frontier that we are aiming for.
When space begins to move, the world moves forward.
Sankyo Frontier